Great Gifts for Every Occasion!
We Research, Buy and Sell Original Stock and Bond Certificates, Historical Documents and Autographs
Scripophily is the name of the hobby of collecting Stock and Bond Certificates
Our Old Company Stock Research Services have been performed continuously since 1880

Scripophily.com and Old Company Research Press Releases
Free Riggs National Bank (Famous DC Bank)
with all Orders
Plus
Free
CCCRC 1893 Gold Bond-Reaper Sisters
with all Orders over

$200
Historic Financial Artwork Makes A Great Gift - Occupy Wall Space SM with Stock and Bonds from Scripophily.com
Owner and Publisher of the Marvyn Scudders Manuals and the Robert D. Fisher Manuals
For information please Call 1-888-STOCKS6(888-786-2576) or 703-787-3552

See our Store with Over 17,500 items on SALE
SavingsBonds.pro - Collectible Savings Bonds
See Scripophily.com Press Releases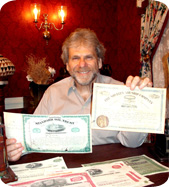 Bob Kerstein, CPA - Journal of Accountancy Interview

See Stock Certificate Expert Bob Kerstein, CEO Scripophily.com
discuss Stock Certificates in Bloomberg on November 7, 2012,
the Associated Press on September 21, 2012,
on CNBC with Jane Wells discussing the Facebook IPO on 5/17/2012,
and Inside Edition and the Today Show on 4/13/2012
Search for items by State
Just Point and Click

Lehman Brothers One William Street Fund (Vignette of Lehman Brothers Headquarters )







Big Four Gold and Copper Mining (Signed by Car Maker John W. Henney and Remick Music Corporation Founder, Jerome H. Remick) , Lake. Leadville, Colorado 1899

Merrill Lynch, Pierce, Fenner & Smith - Old Quotron Vignette (To be acquired by Bank of America)

Audit Company of New York (Acquired by Price Waterhouse) - 1928





Countrywide Mortgage Obligations, Inc.
(Countrywide Financial Corp bailed out by Bank of America) Collateralized Mortgage Obligation - 1986
Westinghouse Air Brake Company Check signed twice by George Westinghouse 1872
Ballantine & Co. Brewery - RARE Certificate #1 signed 3 times by Robert Francis Ballantine - New Jersey 1900


Scripophily.com is the leading provider of authentic stock certificates, autographs, and old company stock research services. We only sell actual Stock and Bonds Certificates. We do not sell reproductions. These are sold only as collectibles and we do not transfer any ownership rights in the company represented by the security. © 1996 - 2014 Scripophily .com ®, Scripophily .net (tm), OccupyWallSpace.com, Wall Street History - Lost and Found (sm), Bob.com ®, Old Company Stock Research (tm), Old Stock Exchange ®, Gift of History (tm), ConfederateBonds.com, EBITDA .com., Professional Scripophily Dealers Association, OldCompany.com, PSTA.COM, and Encyberpedia.com. All Rights Reserved. You may link to the site, but please do not copy any images or information without our expressed written permission.
Scripophily.com / Old Company Stock and Bond Research Service owns and operates the Old Stock & Bond Research Archives from Herzog & Co., Inc (formally R.M. Smythe research) which was acquired in 2011 from John Herzog. This includes all archives, publishing rights and copyrights on obsolete research reference material published by the Marvyn Scudders Manuals, the Robert D. Fisher Manuals, and the Herzog & Co., Inc. obsolete research services. The old stock research services have been performed continuously since 1880.